New Zealand
November 29th, 2012
Download the December issue of the Harcourts Property Focus, the last one for 2012 by CLICKING HERE
In this issue:
The value of registered valuations: They are about more than just the numbers!
Building inspections: A pre-purchase inspection can save you thousands and will be one of the best investments you'll make
Urban village greenfields: The Government competition to rebuild Christchurch gets underway
November 23rd, 2012
Below is an excerpt from Harcourts' November 2012 external client survey results for Australia and New Zealand.
What was the primary reason for purchasing your property?
We ask our clients for the primary reason for purchasing their property – the number of buyers purchasing a property for investment purposes rose significantly in the second half of 2012, from 16% in July 2012 to 47% in October 2012.
November 20th, 2012
Harcourts Doubtless Bay installed the first iVisual Interactive Touchscreen Window Display in New Zealand into their office frontage at their high profile location in the Coopers Beach Shopping Centre last week.
The display is a large 46 inch screen (which operates like an iPad) that buyers can use to search for property while on the pavement outside the shop.  The user is able to access all the properties Harcourts Doubtless Bay have listed including all the properties photos. One of the major benefits for the user is that they can view the location (Google Maps) and also see the properties street appeal, via the "Street View" option. This conveniently allows them to drive up and down the road viewing the neighbourhood, and potential views, all from the shop front, saving time by not having to drive to unsuitable properties.
Business Owner of Harcourts Doubtless Bay, Murray Bright, says this type…
November 20th, 2012
Radio NZ – National, Wellington hosted by Mary Wilson
Checkpoint – 3 mins 37 secs
Wilson says that new figures in the services sector have indicated a 'sharp pick up' after a five month decrease in activity. BusinessNZ CEO Phil O'Reilly suspects that this reflects confidence within New Zealand, rather than offshore. Harcourts New Zealand CEO Hayden Duncan discusses the increases in commercial leasing and BDO managing partner Craig Lamberton attributes the pick up in properties to smaller developments.
Listen to the whole bulletin by clicking the link below:
November 20th, 2012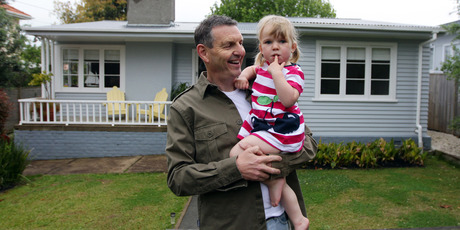 Phil Holden and daughter Lila outside their home in Mark Rd,
Mt Albert that sold at auction recently. Photo / Doug Sherring
The number of houses going to auction has rocketed in the same way it did at the 2008 peak, as home owners cash in during a desperate scramble by buyers.
The switch to a sellers' market has been sudden and dramatic with home owners in desirable areas trying for top dollar with competitive buyers.
The heat in the market has pushed record prices even higher in Auckland and Christchurch where a short supply has put some houses under the hammer for around $300,000 over their most recent CVs.
Auctions had increased by 37 per cent on last year at Harcourts and other agencies also reported growth.
Harcourts chief executive Hayden Duncan said main centres outside Auckland and Christchurch were less affected.
"There are some…
November 19th, 2012
Friday marked Buddy Day, a fun, high profile public participation event, with the serious message…to raise awareness of the issue of child abuse in our community and the role we all have in keeping kids safe.
Groups of 'Creators' transformed Buddies which involved children and adult groups turning plain white cardboard cut-outs into little 'Buddies,' but with big personalities! They breathed life into the 'Buddies' by giving them a name, a face, clothing, a story and a sense of belonging.
On the 26th of October Harcourts Hamilton announced they would gladly accept the invitation to take part in Buddy Day, taking on the role of official 'Buddy Couriers.' The team at Monarch Real Estate transported 350 Buddies around the area, delivering Buddies to those who registered to be 'Buddy Carers' from Huntly to Tokoroa.
"As a team, we transported the 350 Buddies to carers which is 20 per cent of…