Newsletters
December 19th, 2012
To view the latest and last Property Management Focus for 2012 please CLICK HERE
In this month's issue:
Bullet proof investments
Picking the property management crop
Taxing decisions
Latest values
December 17th, 2012
To view the December MarketWatch, and the last one for the year CLICK HERE
November has indicated strong and continued real estate activity with New Zealand's largest real estate firm, Harcourts, reporting written sales in excess of $1 billion dollars and based on their figures the level of activity is no longer constrained to the Auckland market.  The central North Island saw a 37% increase in written sales while Christchurch and the South Island are seeing 15% and 23% growth in their numbers respectively.  Wellington remains stilted and is the only region whose figures have experienced a slide in written sale activity.  The 2013 outlook for the country is one of an environment with continued low interest rates and housing stocks remaining tight.  With limited building planned, particularly in Auckland, it will have the impact of fuelling on-going price increases so…
December 10th, 2012
Download the Summer 2012 edition of Harcourts' Rural Property Focus, the last one for 2012 by CLICKING HERE
In this issue:
Ins and outs of a B&B: Ever thought about owning a B&B? There are quite a few things to consider
Styling your property for life: Lifestyle properties are a long held dream by some. Know what you're getting into before you sign up
November 30th, 2012
In this month's Property Focus newsletter (December 2012, Australia):
Harcourts research results: Stay up to date with the latest results from Harcourts' external client surveys.
Market facts: Get all the latest property market facts from around Australia.
RBA keeps rates on hold: Melbourne Cup Day may have produced healthy winnings for some but those that were backing an interest rate cut were left sorely disappointed…
Harcourts Indonesia post strong growth: Harcourts has reported strong growth within its Indonesian operations, says Tina Sander…
The price is right: When it comes to buying a home, most purchasers feel it is important that they pay the right price for property…
View this month's Property Focus newsletter here.
November 29th, 2012
Download the December issue of the Harcourts Property Focus, the last one for 2012 by CLICKING HERE
In this issue:
The value of registered valuations: They are about more than just the numbers!
Building inspections: A pre-purchase inspection can save you thousands and will be one of the best investments you'll make
Urban village greenfields: The Government competition to rebuild Christchurch gets underway
November 20th, 2012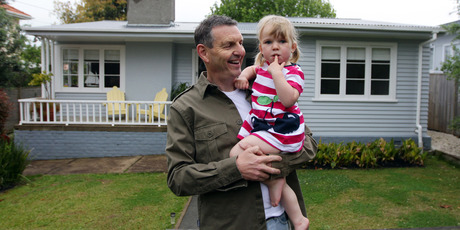 Phil Holden and daughter Lila outside their home in Mark Rd,
Mt Albert that sold at auction recently. Photo / Doug Sherring
The number of houses going to auction has rocketed in the same way it did at the 2008 peak, as home owners cash in during a desperate scramble by buyers.
The switch to a sellers' market has been sudden and dramatic with home owners in desirable areas trying for top dollar with competitive buyers.
The heat in the market has pushed record prices even higher in Auckland and Christchurch where a short supply has put some houses under the hammer for around $300,000 over their most recent CVs.
Auctions had increased by 37 per cent on last year at Harcourts and other agencies also reported growth.
Harcourts chief executive Hayden Duncan said main centres outside Auckland and Christchurch were less affected.
"There are some…